**** January ****
Revamp of the welcome page after our first 10,000 visitors !! The Tigger Quiz now works for Netscape users, and there will be a version of Tic-Tac-Toe coming shortly.

**** October ****
Read new stories about Winnie-the-Pooh in 'Story Time'

**** September ****
Pooh's in a spot of bother in his new game 'Chase the Bees'

**** August ****
Being the modest chap that he is, Tigger has added a new quiz all about his favourite subject, himself!

**** July ****
You can now play our new game, Pin the Tail on Eeyore. It's not as easy as it sounds!

**** June ****
Kanga and Roo have written two new quizzes

**** May ****
See our new jigsaw of Tigger and Rabbit

Tigger & Company have won three awards

**** April ****
Site developed: - including a quiz, jigsaw of the whole gang, map and photos of the Real 100 Acre Wood, plus narrative on Hartfield, East Sussex where the Pooh stories are based.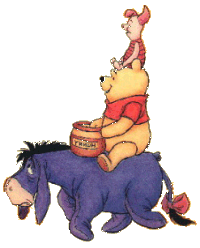 ---
[Home] - [The Real 100 Acre Wood] - [OnLine Games] - [Jigsaws] - [Quizzes]
[Webrings and Links] - [Story Time] - [Site Awards] - [Disclaimer]