The Authors
---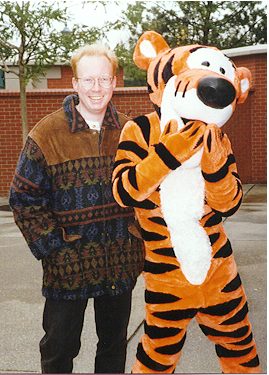 Yes, I'm the not quite so orange one on the left. If anyone's interested, I'm 28, graduated from Aston University in 1993, have been a programmer and IT Manager in the National Health Service and am moving on to work for EDS at Gatwick Airport.
I've been a huge Disney and Tigger fan for many years, and the photo is of me and Tigger at Disneyland Paris. You wouldn't believe what I had to do to get a photo on my own with Tiggs...!
My taste in coats has improved. Honest....
...
And over to my fiancee, Luci,
the not quite so orange one on the right...
...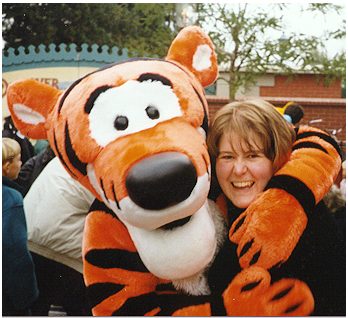 Cheers, John, at least you didn't mention my beady black eyes!
Hi, I'm 26, and have worked in Debt Recovery (no-one dares to borrow money off me!), Insurance and now as a Computer Programmer.
I am fascinated by animation, with my fav Disney film being Fantasia, closely followed by Aladdin. I'm told I look like Flounder from The Little Mermaid - I'll leave you to decide....!
(I'm not a guppy...)
If you have any comments or suggestions, or just want to say 'Hi', please put them on Tigger's Guestbook.